~
Sunday, November 6th, 2011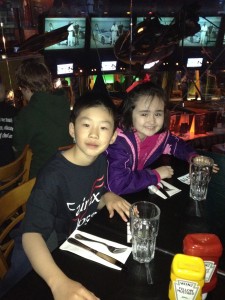 It was a long, fun day. I spent the night in NoVA so I could get up bright and early (OK, early) the next day at 5:00 AM and get ready for meeting the bus at 6:30 AM in Annandale. C must have heard me running my bath, because she woke up on her own and was excited to get ready. MA made us a nice lunch, with healthy snacks and C picked out 2 each of her Halloween candy for us to snack on for the trip.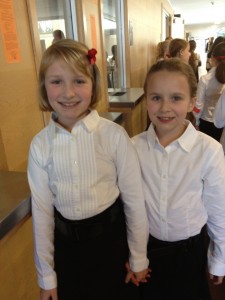 We got to the church and the first thing they are doing is grouping the kids with their buddies. Unless I had a good friend coming with me to an event, I always hated this part. But thankfully, we saw E, who looked like she matched up perfectly with C (I'm not sure if they had bonded prior, but it worked on this day).
I was paired with C & E (and her Dad, Z) along with E(2) and K. We got on the bus and off we went. We arrived in Long Island about 1:00 PM and the kids practiced fast, then performed, then we were off to Planet Hollywood in Times Square for an evening meal, a photo op in Times Square, a quick shopping spree, and then on the bus again to finally get back to the DC area by about midnight. Thank god for the Fall forward hour we gained due to DST.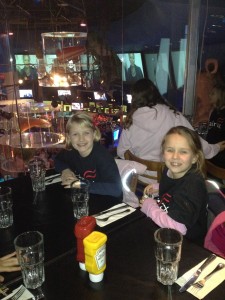 Some things of note:
1. C loves screens. She had a couple of movies on an old iPhone and she was committed to watching them all and it was her go-to activity during unplanned times.
2. J, a guy in the older Treble choir, was fun to watch, as he was in awe of everything as he was on his first trip to the Big Apple, and he pulls out his music notebook and studies it during the journey, at a quiet moment. That's so cool, despite the easier distractions (4 movies!)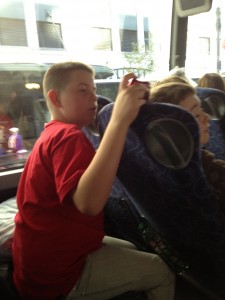 3. Z was a great chaperone to pair up with, as, I think, he is a teacher and knows the ins & outs of dealing with kids. Thank god for teachers!
4. Some of the chaperones reminded me of the conversations I've had with MA about helicopter parents. They really just seemed so tense!
5. These NoVA kids eat really healthy snacks (hummus, snap peas, carrots, pretzels).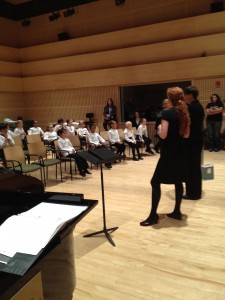 6. Ms. C, the choir director, is charming, talented, delightful, and supportive of her kids.
7. Kids at 9 yoa are very comfortable having an iPad on a trip like this.
8. A 9 year old boy is singing a song from "Rent" on the bus and that makes me smile!
9. I have confidence in the tour group, Kewl Tours.
10. Would rather have a g-daughter that checks out and wants to read a library book about the Middle Ages than knows the words to the latest pop-culture boy/girl band song that was blaring outside the Planet Hollywood, as some of the other choir girls rocked out and knew every lyric (along with their moms)
11. When shopping for souvenirs, C asked if we could buy something also for her friend Katherine. That's really neat.
12. Loved the little notes that C left for her family at the breakfast table.
13. Loved the little note that C's mom left her in her bag with her choir uniform.
14. The Delaware rest stop is the best one on the way from/to NYC/DC.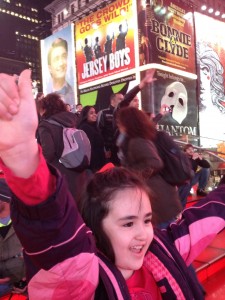 15. Times Square is my least favorite spot in Manhattan. It gets even more "least favorite" status as I attempt to keep up with a group and/or C or an elusive E(2), who likes to just take off to explore. "E(2), come back here!" "Hold my hand!"
16. Next time, pick a seat that isn't directly ahead of the girl who can't sit still, and has to constantly visit her "chaperone" parents (not near any kids) at the front of the bus.
17. While crocheting, many kids complimented me on the blanket I was making for GiGi, and told me about their own craft/knitting/crocheting/needlework projects.
18. Planet Hollywood is not a G-rated place, at least the one in NYC. We saw girls pole dancing, guys/gals in mini-bikinis, and several times K asked me "was that 2 guys kissing?" (I have no problem with that, btw) while the videos with MTV, on steroids, played on the 50 screens that were viewable from any angle.
19. An iPhone 4S battery can last more than 12 hours if you turn on airport mode frequently.
20. An iPhone 4S GPS is very useful if you are trying to meet up with people in S, VA when your bus arrives from NYC in A, VA in the middle of the night.
Finally, what I learned, I'm not too old for this (yet).